photo by Jordan Geiger
---
Claire Karpen and Khalil Lesaldo in Dariyland. Photo by HuthPhoto.
"Both Dooley and Karpen truly shine as actors...Karpen is so wonderful in her role as a neurotic millennial journalist...Moving into the final scenes, Allie and her dad share a beautiful moment in which they deliver a calf into the world together--entirely done in pantomime--which I honestly don't think could have been performed any better." - Ivana Vazquez, Chatham Lifestyle
"★★★★" - IndyWeek
"But it is the tension between Allie, ruminatively played Claire Karpen, and Ray Dooley's rock-solid, level headed portrayal of her father, that gives this play depth." - Lauren Van Hemert, RDU On Stage
"As Allie, Claire Karpen skillfully registers the frustrations and anxieties of her New York self as well as the optimism, the disappointments, and the triumphs of her back-to-Wisconsin self...this is a show filled with laugh-out-loud comedy, delightful characterizations, touching interpersonal moments, and social statements." - by Pamela Vesper and Kurt Benrud, Triangle Arts and Entertainment.
"A strong cast and smart staging... thanks largely to Dooley and Karpen's strong characterizations, the relationship between father and daughter stands out as beautifully real and flawed, easily one of the most enjoyable and authentic parts of this script." - Triangle Arts Review
PLAYMAKERS REPERTORY COMPANY

Dairyland

by Heidi Armbruster
directed by Vivienne Benesch
Scenic design by Narelle Sissons
Costume design by Jan Chambers
Lighting design by Amith Chandrashaker
Projection design by Jared Mezzocchi
Sound design by Lindsay Jones.
Ray Dooley and Claire Karpen in Dairyland. Photo by HuthPhoto
---
Claire Karpen and the cast of Birthday Candles by Noah Haidle,
directed by Vivienne Benesch at Detroit Public Theater are featured
on the cover of American Theater Magazine's October 2019 edition.
---
CHAUTAUQUA THEATER COMPANY
On The Exhale
written by Martín Zimmerman
Directed by Patrick Walsh
with Claire Karpen as The Woman
Scenic Design by Sa

sha Schwartz


Lighting Design by Baxter Carlisle Chambers
Costume Design by Dorottya Vincze
Sound Design by Zackery Aaron Bennett
Assistant Sound Design by Alex Brock
Stage Manager: Emily Glinick
Assistant Stage Manager: Kacie Pimentel

Chautauqua Theater Company's New Play Workshop 'Exhale' Examines Impact of Gun Violence
Photo by Dave Munch.
---

HERITAGE FESTIVAL THEATER
Steel Magnolias
by Robert Harling
directed by Claire Karpen

Emma Pfitzer-Price and Katy Sullivan in Steel Magnolias. Photo by HuthPhoto.
"Heritage's 'Steel Magnolias' explores the power of friendships" - The Daily Progress

Directed by Claire Karpen
Scenic Design by David Gordon
Lighting Design by Lauren Duffie
Costume Design by Grier Coleman
Sound Design by Michael Rasbury
Stage Manager: Emily McGregor
Assistant Stage Manager: Lydia Modlin
Assistant to the Director: Jakob Cansler
With Lauren Elens, Kate Forbes, Jacqueline Jones, Kate Monaghan,
Emma Pfitzer Price and Katy Sullivan
---

2019 Brightside Film Festival
"Best Actress in a Comedy" nominee
Claire Karpen


The House on Cox Curve
Direced by Eamon O'Rourke
Produced by Sophie Finkelstein
With Claire Karpen, Jack Mulcahy, Amanda Brooke Lerner, Lisa Younger,
Henry Kandell and Jake Generalli
---
BLUE BARN THEATRE

The Woodsman
written by James Ortiz
with music by Edward W. Hardy and lyrics by Jen Loring
Co-directed by Claire Karpen and James Ortiz

Movement direction by Will Gallacher
lights by Jamie Roderick and costumes by Jenny Pool
scenic and puppet design by James Ortiz
Associate director Amanda A. Lederer
With Michael P. Burns, Barry Carman, Beau James Fisher,
Caulene Hudson, Stephanie Jacobson, Anna Jordan, Be Louis,
Moira Mangiameli and Matthew Olsen

"Directed by Strangemen Theatre Company's James Ortiz and Claire Karpen, THE WOODSMAN is a master work... If you have a heart, you will love this show. It's way too good to let it pass you by."
- Broadway World, THE WOODSMAN Leaves Me Speechless

"In short, the new play at the Blue Barn is everything theater can be. It doesn't need elaborate or expensive embellishments or more than an hour and change to tell a warm, fully realized and absolutely irresistible story...The cast is an ensemble in the true sense of the word...The entire production is rustic, rough, energetic and beautiful...For its 30th birthday, the Blue Barn has given Omaha a gift from the heart."
-Omana World-Herald Review: 'The Woodsman' at the Blue Barn has a big 'Oz' heart and a Midwest soul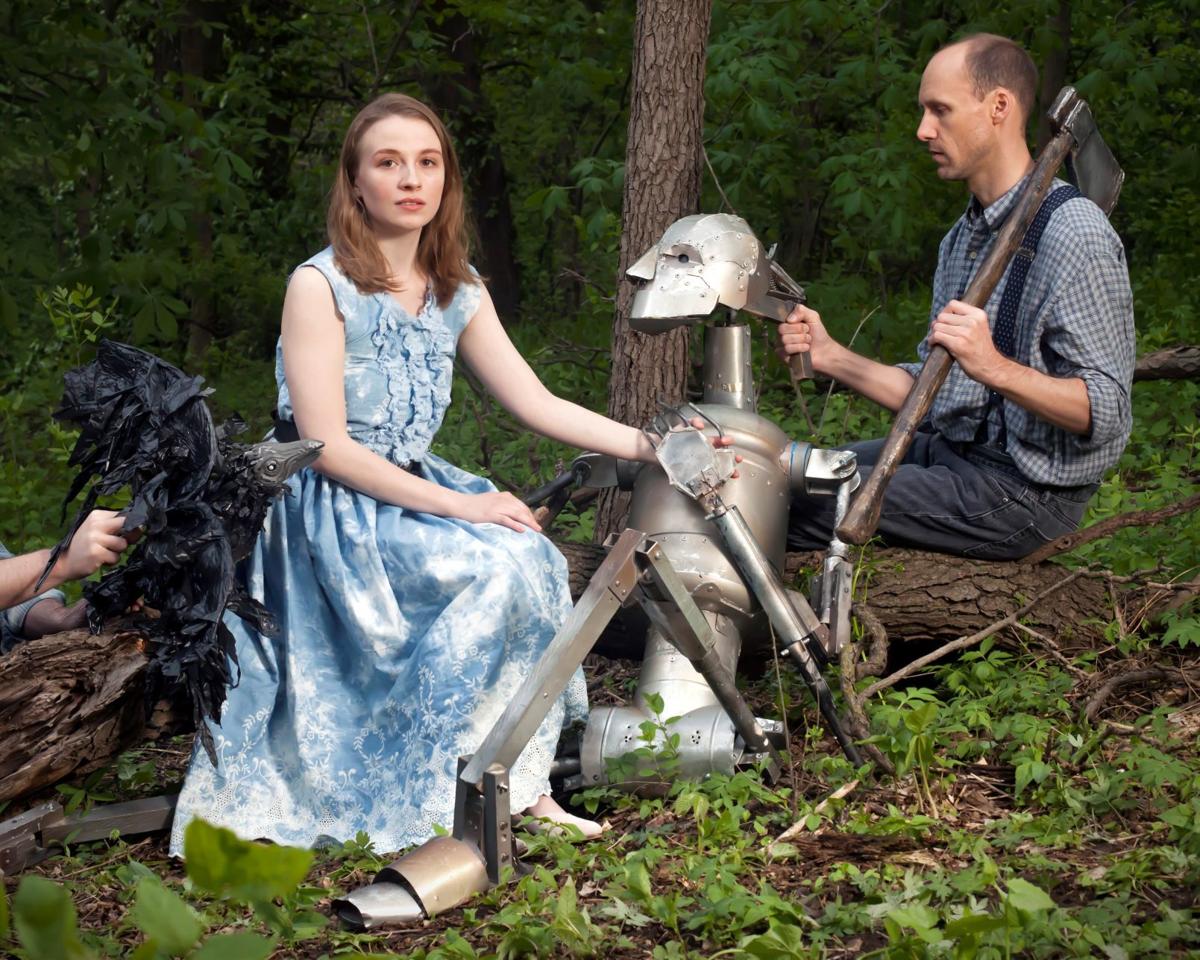 ---

STRANGEMEN THEATRE COMPANY

Bernie and Mikey's Trip to the Moon
By Scott Aiello
Directed by Claire Karpen
"Outstanding direction by Claire Karpen and a top-notch cast that brings Aiello's finely written story to life...This affecting, coming of age story about love, loyalty, and longing is laced with clever humor."
- Broadway World

"Scott Aiello's play about an Italian-American family dealing with a disabled daughter offers no-nonsense American realism."
- New York Times

"Perfectly staged and emotionally complex"
- Theatre is Easy

"Strangemen Theatre Company's Bernie and Mikey's Trip to the Moon might just end up one of your favorite pieces of theater in 2018...a total triumph: hilarious and heartbreaking at the same time, crescendoes with drama that leaves you on the edge of your seat, and filled with plenty of raw and gritty characters that you wish were your best friends."
-YesBroadway
---
(Daniel Pearce, Atman the First and Claire Karpen)

DETROIT PUBLIC THEATRE

Birthday Candles
by Noah Haidle
Directed by Vivienne Benesch

Nominated for a 2018 EncoreMichigan Wilde Award
for Best Performance, Actress in a Play
"...one of the most satisfying and moving new plays I have seen...The cast is uniformly good, but Karpen shines in the lead role. The actress, in her mid-30s, convincingly moves from high school to the nursing home without the aid of age-enhancing makeup."
- Detriot Free Press
"Claire Karpen as Ernestine is marvelous, filling this woman at all ages with both sweetness and strength."
- Encore Michigan
"a masterful performance."
- a2artsAddict
---

(Quincy Dunn-Baker and Claire Karpen. Photo by Carol Rosegg)

THROUGHLINE SUMMERSHORTS

Jack
By Melissa Ross
Directed by Mimi O'Donnell
"As directed by Mimi O'Donnell, Quincy Dunn-Baker and Claire Karpen are funny, real, and devastating as a divorced couple with one last thing to share. "
- The New Yorker

"Melissa Ross's Jack.... lands quite the emotional punch... Quincy Dunn-Baker and Claire Karpen, both pitch-perfect."
- New York Times (CRITICS PICK)
---

***Now Available on BROADWAY HD***

STRANGEMEN THEATRE COMPANY

The Woodsman
Written by James Ortiz
music by Edward Hardy
Co-Directed by Claire Karpen and James Ortiz
New York Times: "Directed by Claire Karpen and Mr. Ortiz, this ambitious production has much to recommend it."
Huffington Post: "Excitingly, they should improve and grow by leaps and bounds as they continue to mount works. Fans of Pigpen Theatre Co. and original theater in general take note."
Timeout New York (CRITICS PICK): "Touching on mortality, futility and fate, The Woodsman is a grown-up fairy tale that proves happiness is a worthwhile goal, even if it doesn't last ever after."
TheatreMania: "Just as no measure is left un-choreographed, no moment is left without emotional intention, creating an efficient engine that powers a robust heartbeat."
Vulture: "There's not an unconsidered moment: Every element contributes, echoes, foretells. Many a production costing 100 times as much could benefit from Strangemen's level of attention to storytelling detail."
----- Previous Production Reviews ------
"The grace of the staging by Ortiz and codirector Claire Karpen is aesthetically captivating while also impressively precise in its storytelling. " - Theatremania
"Creative, entertaining, haunting, and beautifully tragic." Broadwayworld.com
"The real triumph is the unity of the company... The result is theater with a sense of urgency and imagination that I want to experience all the time." - Theaterpizzazz.com
"Strangemen and Co's The Woodsman, with their deep respect for story and transcendent stagecraft, stands out as one of the most authentic presentations of Oz that I have ever seen." - New York Theatre Review
Broadway.com Go Beyond Oz with the Cast of Off-Broadway's The Woodsman
BroadwayWorld FREEZE FRAME: Meet the Cast of Off-Broadway's THE WOODSMAN
TheaterMania Meet the Tin Man and the Cast of The Woodsman
Broadway.com VIDEO James Ortiz on Bringing the Untold Story of Oz's Tin Man to Off-Broadway With The Woodsman


---
Fiasco Theatre's

INTO THE WOODS
by Stephen Sondheim and James Lapine
Performed at the McCarter, Old Globe, Roundabout and
London's Menier Chocolate Factory


"I fell head over heels." - Ben Brantley, New York Times
(Paul Coffey, Claire Karpen and Matt Castle. Photo by Matt Pilsner.)
"And as rendered by the Baker and his Wife (Mr. Steinfeld and Jessie Austrian), Cinderella (Claire Karpen), Little Red Riding Hood (Emily Young) and a maternally warped witch (Jennifer Mudge), these songs of reckoning come across as some of the most poignant declarations of ambivalence Mr. Sondheim ever wrote."
- Ben Brantley, New York Times (McCarter Production)
"Truly enchanting! These are the woods that you want to get lost in, a place you'll find buried treasures that you didn't even know existed."
—Ben Brantley, New York Times (Roundabout Production)
"Gorgeous. Into the Woods not only features a giant but IS ONE."
-Jesse Green, New York Magazine

"Inspired. By far the most emotionally powerful production of Into the Woods I've seen. I don't expect the theater season will offer many better experiences."
- Robert Feldberg, The Recor
---

INTO THE WOODS is featured in The New Yorker
Photo by IOULEX
---
Into the Woods &The Woodsman both featured in in the "highbrow/brilliant" quadrant of New York Magazine's Approval Matrix
Huffington Post features article about THE WOODSMAN
by Steve Schonberg interviewing Claire Karpen and co-director James Ortiz
"I think that our culture right now is so technological and in some ways so virtual, and our response to that is that we're really hungry for things that are tangible," Karpen continued. "There's something about the woods, and the mystery of the woods that needs to be experienced... which is why I also think people go to the theater."

Read more: http://www.huffingtonpost.com/steve-schonberg/everyone-is-into-the-wood_b_6372238.html
---

SYLVIA
by A.R. Gurney
directed by Daniel Sullivan
on BROADWAY
---
(Scott Drummond, Carson Elrod, Sarah Manton and Claire Karpen. Photo by Carol Rossegg.)
Westport Country Playhouse

Bedroom Farce
by Alan Ayckbourn
directed by John Tillinger
"...strong are Ms. Lowrance and Ms. Karpen, with easy fluidity and lived-in depths percolating behind their characters' exteriors."
- The New York Times
"If I had three or four paragraphs to spare, I'd spend them cheering for the cast."
- Wall Street Journal
---
Classic Stage Company
(Dave Quay, Carson Elrod and Claire Karpen. Photo by Richard Termine.)
CLASSIC STAGE COMPANY

The Heir Apparent
Written by David Ives
Directed by John Rando
"The entire cast excels... Ms. Karpen has an earthy deadpan style that well suits her character's frequent exclamations of disgust at her employer's behavior."
- Charles Isherwood, The New York Times
---
(Clockwise from left, Aaron Rossini, Rachel Christopher, Jude Sandy, Claire Karpen, Jimmy King and Craig Divino. Not pictured: Stacey Yen and Ben Mehl.)
Fault Lines Theater
At The Table
Written and directed by Michael Perlman
Workshopping a new play with Fault Line Theater Company:
---
(Claire Karpen and Beth Fowler)
Penguin Rep
Don't Talk to the Actors
by Tom Dudzick
directed by Thomase Caruso


"Claire Karpen carries off Lucinda's obsessive work ethic and jarring outfits with panache."
- New York Times
---
The Cherry Orchard, directed by Tara Ahmadinejad
MFA Columbia Graduate Directing program
---
---